We recently caught up with Katherine for a Q&A session about how cannabis brands can stay true to their identity while appealing to mainstream consumers, the current state of branding in the cannabis industry, how Illustria approaches the branding process for their clients, and more!
---
Ganjapreneur: A lot of businesses in the cannabis industry arise from close-knit communities, founded on idealism and a strongly-held belief in the positive impact of what they are doing. With this in mind, how should a business owner in the cannabis industry think about their brand? How can they remain true to the spiritual core of their identity while still focusing on appealing to customers and being competitive in a market that is increasingly going mainstream?
Katherine Long: Own it. Recognize why you're doing what you're doing, and don't lose it. That core belief in your "why" is critical to developing a strong brand. It's a common misperception that you have to radically change who you are or "sell out" in order to broaden your appeal. A lot of brands feel like they have to change who they are to go mainstream, but end up appearing inauthentic and tone deaf.

A brand's "why" should not change. That being said, the "how" to tell that story should be flexible and adapted to the needs of the audience. Different audiences have different needs and concerns, and they'll want to be spoken to in different ways, but they can still be aligned with your core mission.

I'll give you a recent example with one of our industry clients, Bluebird Botanicals. Bluebird is strongly mission-driven, and they see hemp as a gift from nature with many healing properties. Their entire company is built around the idea that everyone deserves access to hemp, in order to live happy and healthy lives. They have never deviated from that position and back it up with their pricing and commitment to low-income and veterans programs.

They worked with us to keep that spiritual core, while tailoring it to a growing mainstream audience. Bluebird's initial audience cared a lot about CBD's health benefits and enjoyed hearing about it through the product's technical details, such as the potency and number of cannabinoids per milligram. We found that their new mainstream audience also cared about CBD's impact on their health. However, because they lack a technical background, they resonated with a message focused on CBD's lifestyle benefits. This allowed Bluebird to stay true to their core mission of helping people live happy and healthy lives, while communicating with a different audience.
With your recent rebrand for Bluebird Botanicals, what were the goals at the outset, and what were the results after you launched?
When we first started working with Bluebird, we realized that they had a really powerful story that just wasn't being told. Their commitment to care, altruism, and transparency is second to none.

Our goal with the rebrand was to tell their story in a way that was authentic and also resonated with the mass market. We wanted to move away from the stigma associated with cannabis, and show consumers that they are a trusted, legitimate brand. Finally, we wanted to provide clarity around the product. They had a bunch of SKUs, but no system for the retailers or the customer to understand them.   

We rolled out the rebrand at the end of January, and the results were fantastic. It also generated strong interest from national retailers. We're definitely staying tuned to see how Bluebird's brand evolves!
Speaking of stigma, what role does branding play in breaking the stigma associated with cannabis? What are some ways that cannabis companies can actively work to counteract decades of misinformation and anti-cannabis propaganda with their marketing? What should they avoid?
Branding plays a large part in breaking the stigma associated with cannabis. Branding can shift the audience perception away from stigma and toward legitimacy by conveying a sense of trust, safety, and professionalism.

To actively counteract the misinformation, companies can associate their product with categories that people are already comfortable with and stay away from cannabis-heavy imagery.

For example, when we rebranded New Frontier Data, we made a conscious choice to stay away from the marijuana leaf and counterculture references. We made the decision to associate them with traditional market research and analytics firms. Their mission is to bring transparency into the industry and provide objective data to operators, investors, and researchers. They saw Wall Street as a big growth opportunity, and Wall Street is traditionally very conservative, so the brand had to communicate legitimacy through professionalism and trustworthiness. This worked well, as they picked up Bloomberg and Boston Consulting Group as clients shortly afterward.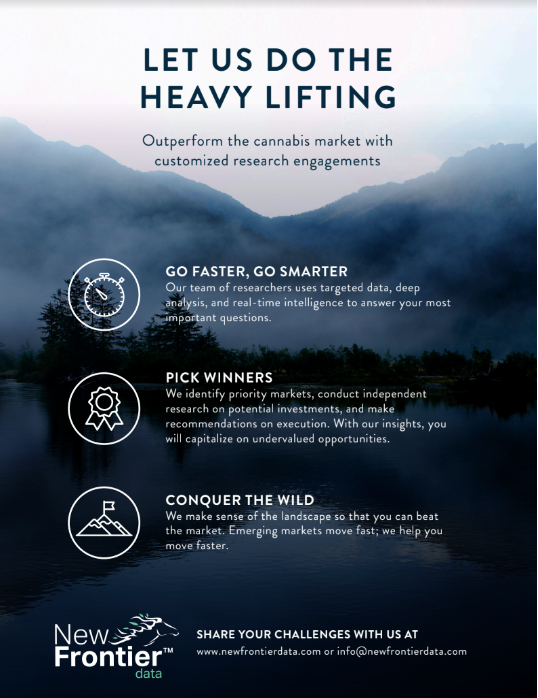 Many adult-use cannabis markets, as well as the national CBD landscape, are awash in competition, making it extremely difficult for smaller brands to establish a foothold. When it comes to packaging and retail presentation, what are some ways that cannabis brands can stand out from the crowd?
The trick to getting your brand into retail stores is to have people know who you are before they go to the store, and to have them asking the retailers for you.

Retailers look at a variety of different metrics when they consider taking on new brands. Packaging is part of their equation, but you won't be able to sway a decision based on packaging alone. Retailers are evaluating you based on the overall strength of your brand. All of the basic needs need to be met: your packaging is professional and looks legitimate, it's clear what you're about and who you serve, and you have lots of loyal customers who are willing to go to bat for you.

For any brand wanting to establish a foothold, we'd recommend trying to strengthen your overall brand by developing a clear point of view that resonates with customers. Packaging is part of that, but without a crystal clear brand position, it won't generate the full benefits. Focus on being the best you can be, not on what the competition is doing, and you'll naturally stand out both in the crowd and on the shelf.
As a cannabis startup, what are the benefits of working with an agency who specializes in branding, as opposed to working with a trusted friend or family member who has some graphic design experience?  How should one go about selecting a branding partner to work with?
I'll start off by saying that branding is not the same as graphic design. A brand is not a logo. Building a brand is about communicating what differentiates you from others in the market and why customers should choose you. So in this case, it depends on the company's goals. If the startup is looking for pure design, they may very well be better served by finding a friend who can create a logo for them. But if they are looking to create a brand that will resonate with customers and win the market, it would make more sense to work with a branding agency. They'll be more expensive, but the business results are worth it.

As far as choosing a partner, you should find a group that has a clear process that emphasizes talking to customers and looking at the brand objectively. Look for substance, and don't be fooled by beautiful graphics and aesthetic. While great design is part of it, it's not all of it. And most of all, find a partner who shares your values and is the right fit for you. After all, you are trusting them with your brand!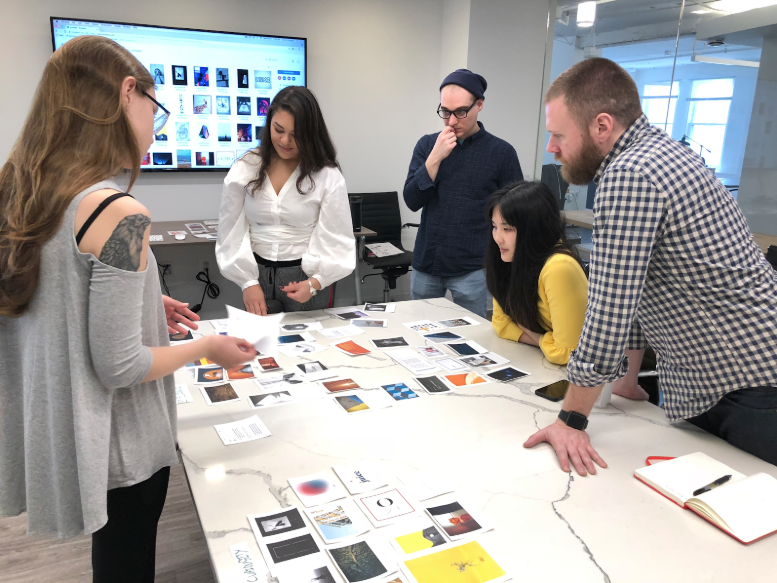 When Illustria works on a branding project for a new client, what does the process entail? How long does it take, and what does the final result look like in terms of deliverables?
Every engagement starts with Discovery, which is centered around understanding you and your audience objectively. We interview you and your leadership to understand your vision. We talk to your customers to understand how they experience your brand and the value you provide. We look at your consumer and order data to find behavioral insights. From this research, we develop findings and a recommended brand strategy.

This strategy is then used to create your brand positioning and messaging, which is how you sound, as well as your visual identity, which is how you look. This ensures that both how you sound and how you look align with the overall brand strategy of how you're positioned in the market. After you know how you sound and how you look, it's a matter of applying it and rolling it out to the world, for example in your website and packaging.

All said, the process typically takes around three months to complete.
When should an established company think about investing in a rebrand?
The short answer is, whenever they have a goal in mind and are ready to commit to change.

Businesses often come to us when they reach an inflection point and are ready to think about their next chapter. Within that context, a rebrand addresses specific business challenges. Perhaps they're experiencing a market shift and need to communicate to new audiences. Perhaps they have been trying to get into more retail stores, but feel that their existing branding does not accurately reflect themselves. Perhaps the competition is heating up and they're losing market share and want to reverse that trend.

When you know what you want, and you're committed to doing whatever it takes, that's the perfect time to think about rebranding.
What is the most common mistake that new companies make when it comes to their brand?
The most common mistake is thinking that brand is for big companies, and something that you can worry about later. Brand is the sum total of all that you do. This goes beyond the design of your logo and the look and the feel of your packaging. Brand is how others perceive you and your actions. It is your differentiator, it is your why, and it is the reason customers choose you. It's something that you have to start investing in from day 1. Even if you cannot yet engage an agency, you can still think about your brand and customer experience at every touchpoint. Even something simple like choosing to invest in a customer care line, thinking about how you talk to your customers, that all affects your brand. Own your brand before others start defining your brand for you.
Where do you see the state of cannabis marketing in 5 years?
In the last five years, cannabis marketing has gotten more sophisticated. Five years from now, cannabis marketing will be even more sophisticated. At that point in time, cannabis will be well into the mainstream market.

Right now, the cannabis market is very fragmented with many brands and competitors. But five years from now, we will probably see 2-3 leading brands in each cannabis category (vapes, CBD, flower, etc.) who have managed to "own" that category and will have the majority of the market share. Through mergers and acquisitions, we will see a lot of consolidation, with a few big winners.
---
Thank you for taking the time to answer our questions, Katherine!
To learn more about Illustria, you can visit their website.