For anyone who still doesn't know, the prohibition of cannabis was a racist policy enacted to control Black and Brown communities.
The "war on drugs" was set in full swing by the Nixon Administration in the 1970s, but its resulting trauma continues to be felt today. Nixon activated the American judicial system to systematically cite, arrest, and imprison people of color in the United States for the use of cannabis and other drugs. Many drug war victims were often in possession of only cannabis (frequently in small quantities), a product that is now being grown, manufactured, and sold legally in government-regulated markets across the country. This injustice disproportionately affects Black and Brown people, who have been and still are incarcerated at much higher rates for doing the same thing that now brings accolades and wealth to white executives in the legalized industry.
Some white cannabis business owners are sensitive to this quandary, and a few have been talking about it for years, but even more have remained silent in the wake of recent protests against police killings. In fact, some in the cannabis community have actively denied the existence of the problem, even when confronted with overt racist behavior within the industry's ranks.
A white influencer who used the N-word
Dabbing Granny, real name Gail Olson, is a popular cannabis influencer who went live on Friday, May 22 to her 1.1 million Instagram followers — just days before the murder of George Floyd by Minneapolis police. During her live stream, Olson, who is white, told a story about her daughter's experience while she was incarcerated. Her daughter said something that got her thrown in solitary confinement, she disclosed, and, as she chatted, followers asked Olson what was said to prompt the harsh punishment. Olson responded with the phrase, which included the N-word. Olson easily repeated the slur with a hard R and didn't skip a beat.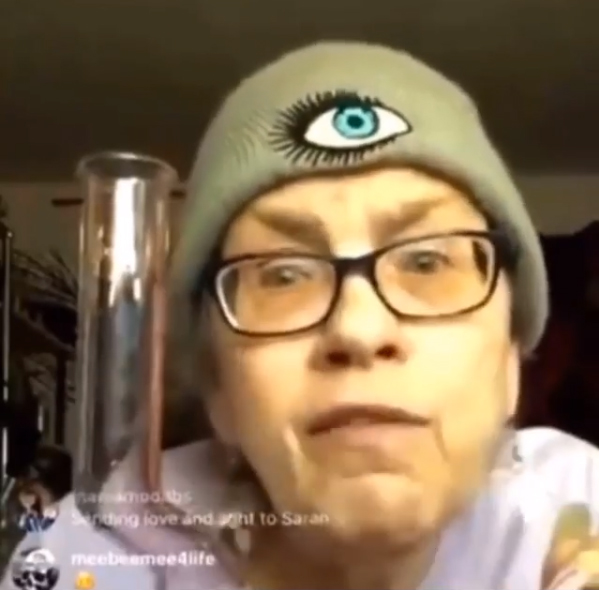 In the days after her live stream, Olson faced some backlash from the Instagram users who follow her. Many called on her to apologize. Olson, who genenerates income via her Instagram content, never had to respond to comments from people who sought an apology or explanation, however, because many of her white followers were quick to do it for her. Droves of Olson's fans wrote long excuses in the comments thread as to why her usage of the racist slur was OK in the context (which it wasn't — it's never OK in any context from a non-Black person), some even venturing onto other peoples' pages to do the same.
Since the original post, "Granny" supporters continue to attack anyone who speaks ill of her. Olson herself posted and subsequently deleted a few non-apologies to her page that denied wrongdoing on her part and often further exposed her daughter's experience rather than speak to her own. She has yet to admit she was wrong or to take part in any visible anti-racism work.
Chef Anna — prolific Black cultivator, online personality, and the Michigan area's favorite cannabis gift-giver — reached out to Olson to give her an opportunity to explain the behavior. Instead, her followers started to attack him, going so far as reporting his page for use of the N-word because he reposted Olson's own video. This flagging technique is commonly used against Black and Brown influencers, cannabis companies, and sex workers on Instagram that result in activist accounts being suspended or censored, while the original comments being referenced are frequently deemed to be 'Not in Violation of Community Guidelines.'
Throughout it all, Olson has actually grown her following to 1.4 million and has lost just a few of her many sponsors.
A dispensary owner who wore blackface on Halloween
Another example of overt racist behavior within the industry can be credited to Shy Sadis, who owns The Joint dispensaries in Washington State. Sadis recently issued an apology in response to the online circulation of photos depicting the white entrepreneur dressed up in blackface to impersonate Kanye West for a Halloween costume contest. When asked for comment the business owner said, "I did make a mistake 10 years ago on Halloween and I wish I could take it back, please accept my apology."
Blackface originated in minstrel shows in the mid-19th century — historically, white performers would darken their faces with shoe polish or burnt cork, wear tattered clothing, and make themselves into characters built to perpetuate a false narrative that Black people were hyper-sexual, lazy, and ignorant. These performances and the laws that were eventually named after famous minstrel character "Jump Jim Crow" were used to reinforce negative stereotypes for the purpose of the continued oppression of Black people. These formerly popular (among white people) performances were instrumental in desensitizing whites to the horrific realities faced by enslaved Black people.
The photo shows Sadis in blackface standing next to his wife dressed as Kim Kardashian who had stuffed the back of her skirt. The photo is featured in a screen-captured text thread with an employee where Sadis stated that he wasn't worried about the costume being offensive because he "won the costume contest;" he also stated that he has Black employees. This non-apology, his public statement, and rhetoric show that he does not understand why this behavior was harmful.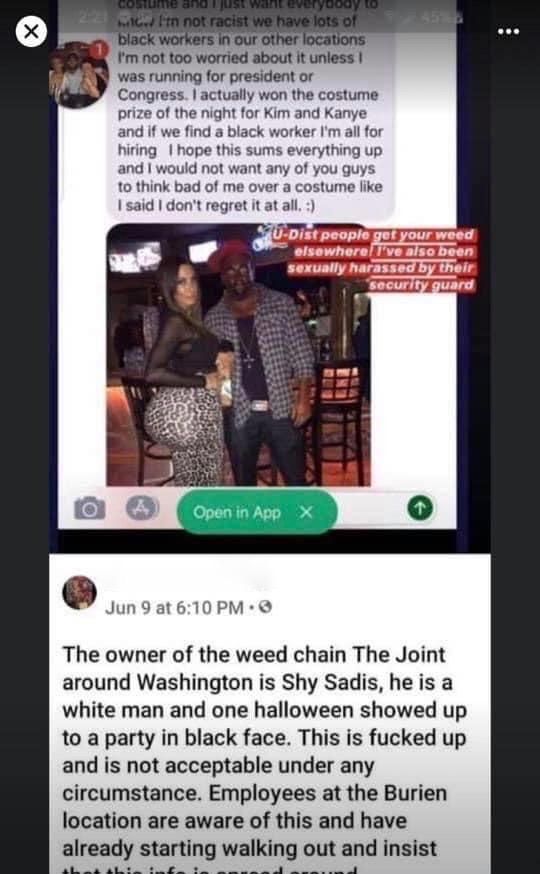 Sadis is currently affiliated with seven cannabis dispensary locations in Washington. According to Pink Boots 420, three Bellevue employees have quit as a result of the owner's behavior, but there has yet to be any greater public backlash within the industry. According to Sadis, this is false and the employees were actually fired.
Cannabis is a 'progressive' industry plagued by complacent whites
In an industry that is overcrowded with hippie-esque influencers, budtenders, and stoners who preach love and light, there is a deafening silence when it comes to accountability for racist behavior and investment in the ideals of social equity and social justice. As the Black Lives Matter movement inspires activism and racial equality endeavors worldwide, one has to wonder why so many cannabis industry operators have remained silent.
However disappointing, it may not be surprising due to the fact that the cannabis industry was built on the backs of victims of the war on drugs, often with little to no regard for their sacrifice.
Editor's Note: Gail Olson, or Dabbing Granny, has not responded to our request for comment. This article may be updated if she does. This article was written by a white person, and Ganjapreneur is a white-owned entity. To learn about implementing social equity practices in cannabis, how to structure your business in a way that works against systemic racism, and how to deal with race-related HR issues, we recommend booking a consultation with Cannaclusive or another Black-owned consultancy that specializes in social justice issues.

Update: Shy Sadis reached out to Ganjapreneur for comment after publishing, this article was updated accordingly on 6/26/20 at 2:42 PM PST.
Get daily cannabis business news updates. Subscribe