Cannabis culture is all about respect, personal choices, and freedom. The team behind Drip Drop Solutions embraces this notion with their unique branding and apparel/product design, which emphasizes sustainability and kinship with one's environment and community.
Drip Drop was founded by three artist friends in Berlin, Germany. Their flagship product is a combination herb grinder/yo-yo that is certain to turn some heads in the right crowd (and, with the appearance of a perfectly innocent toy, can be equally discrete for when you're in the wrong crowd).
Made from locally sourced recycled plastic and food-grade wood composite, the Drip Drop Yo-Yo Grinder can be unscrewed on each end. One side reveals the grinder part of the product, which is a likely well-familiar mechanism with sharp, interlocking spikes that rip and tear up your herb. The toothy design works very efficiently for grinding up small amounts of cannabis (but probably not more than 2 grams due its size). The yo-yo's other side can also be twisted open to reveal a sealed container, perfectly convenient for storing your cannabis flower (again, though, not more than a couple of grams). The yo-yo mechanism, which is made with a high-quality ball bearing and a 110cm string, lies between these two halves.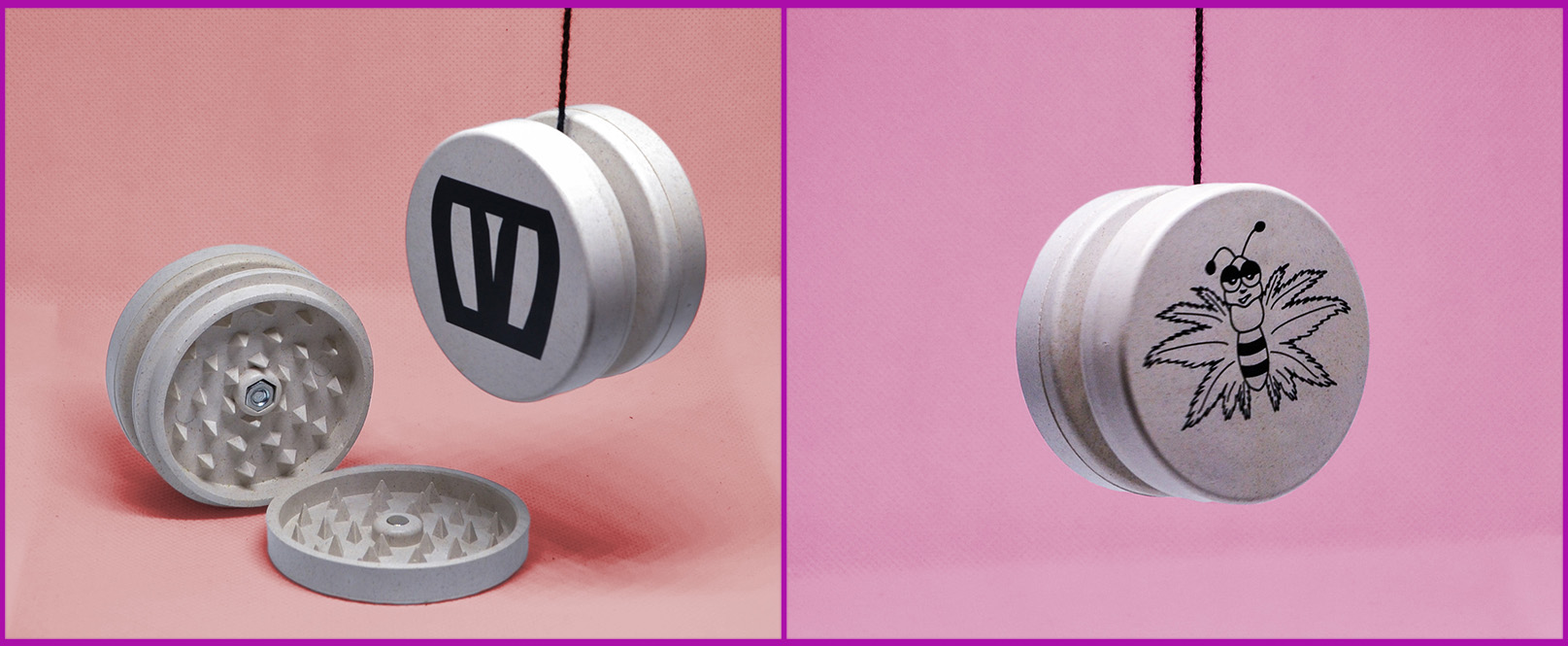 The first thing I noticed about the Drip Drop yoyo/grinder combo was its packaging — the item came in a bright pink-colored, wax paper bag that was dotted with pixel art sunflowers and sported a lone, droopy-eyed cartoon bee. After opening the bag and retrieving the yo-yo, I felt a quick wave of nostalgia as I remembered playing with such toys from time to time throughout grade school: I always struggled to improve but never for long enough to actually feel like a real yo-yoer. This was followed by a different sense of nostalgia as I pulled the yo-yo open to reveal its toothy interior — it was instantly reminiscent of those two-piece grinders you might associate with convenience stores or dispensary store giveaways. You probably know what I mean: they might just be wood or plastic and they might not have all the bells and whistles of a top-tier grinder, but they absolutely get the job done and work great for travel, camping, or any other activity where you might not be bringing your best gear.
The DripDrop grinder/yo-yo simply puts the convenience and efficiency of that cheap grinder model and marries it to everyone's favorite spool-based toy. It's a comfortable size and weight in your hand, whether you are using it as a yo-yo or to grind your herb. The creators have also included a small pamphlet detailing several different ways to use and even wear the yo-yo as an accessory — i.e. draped around your neck, slung across the shoulder, or dangling from a belt-loop.
And I can happily say it's a well-done combo: it's been fun to pick up the yo-yo again, if only to remind myself how deceptively difficult it is. And now, as an adult, I can just fall back on my cannabis buzz to ease the frustration from common mistakes like getting my string all tangled up. Especially while working at home during long bouts of social distancing, I've frequently found myself just pacing around and "throwing," as (I think) a true yo-yoer would say. Bottom line: if you think this product might be for you, it probably is!
Visit DripDropSolutions.xyz to shop and learn more.
Get daily cannabis business news updates. Subscribe