A rioter who live-streamed herself partaking in the January 6, 2021 insurrection by angry supporters of President Donald Trump at the U.S. Capitol in Washington DC has apparent ties to the cannabis industry, according to the Midland Reporter-Telegram.
Meet Jenny Cudd from Midland Texas "WE did break down @SpeakerPelosi's office door and somebody stole her gavel and I took a picture sitting in the chair flipping off the camera and that was on Fox News" @FBI pic.twitter.com/3s3aWgOJ9G

— Cleavon MD (@Cleavon_MD) January 8, 2021
Jenny Cudd is a former mayoral candidate for the city of Midland, Texas, where she owns the florist shop Becky's Flowers. During her unsuccessful 2019 mayoral run, Cudd said that she owned a partial stake in an Oklahoma-based cannabis consulting company and, in July 2020, she appeared in a marketing video entitled "Cannabis Investment Opportunity – Summit Boys presented by Jenny Cudd." In that video, Cudd said she has partial ownership in two Oklahoma cannabis farms and even helped raise $1.25 million in investor capital for one of the facilities. She also said she has interest in an Oklahoma-based dispensary.
Summit Boys — who did not respond to repeated requests for comment — is a California-based cannabis extracts brand that has announced plans to expand to Oklahoma.
Notably, Cudd is also listed as the contact for the Summit Boys Oklahoma profile on LiftOffCapital.com, a matchmaking site for investors and entrepreneurs. She also appears to be featured in a Summit Boys Instagram post announcing the company's expansion to Oklahoma posted on January 5, 2020 (almost exactly one year before the recent insurrection).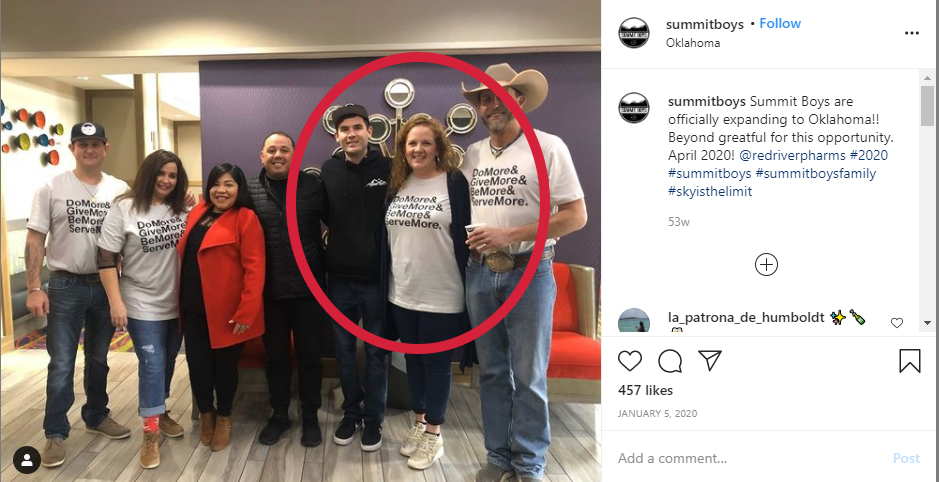 Cudd was identified as a participant in the January 6 riots because she was live-streaming to her now-deleted Facebook page as she illegally entered and trespassed throughout the U.S. Capitol Building. At one point during the feed, she admitted to having helped a group of rioters break into House Speaker Nancy Pelosi's office.
"We had to scale a wall to get there and we just pushed and pushed and pushed, and yelled go and yelled charge, and we just pushed and pushed and pushed and we got in," Cudd said in the video. "There was a door that was open, we went through the door and we were inside."
During a January 8 interview with NewsWest 9, Cudd said she did not regret her actions. "I did not break any laws, I went inside the Capitol completely legally and I did not do anything to hurt anybody or destroy any property," she said. Cudd also said that she has received multiple death threats since partaking in the event.
The FBI — which has requested tips to help identify and arrest participants in the insurrection — says it is reviewing allegations of Cudd's involvement.
During the insurrection, which has been labeled an act of domestic terrorism, pro-Trump rioters overwhelmed DC and Capitol police, breaking windows and doors, forcing entry to the building and lawmakers' offices, and committing various other acts of vandalism. Five people died because of the riots, including an on-duty police officer who was struck in the head with a fire extinguisher and a woman who was shot by police while forcing her way through a barricaded door inside the Capitol.
Update: Jenny Cudd has been arrested by the FBI for her involvement in last week's violent siege against the U.S. Capitol building, Newsweek reports.
Get daily cannabis business news updates. Subscribe