The second annual Colorado Cannabis Wedding Expo brings the most creative and classy 420-friendly wedding businesses together to fill a growing niche of brides and grooms who love to consume. The annual expo happened in Denver, Colorado on Feb. 19 but is coming to Portland, Oregon on March 24 and San Francisco on April 30.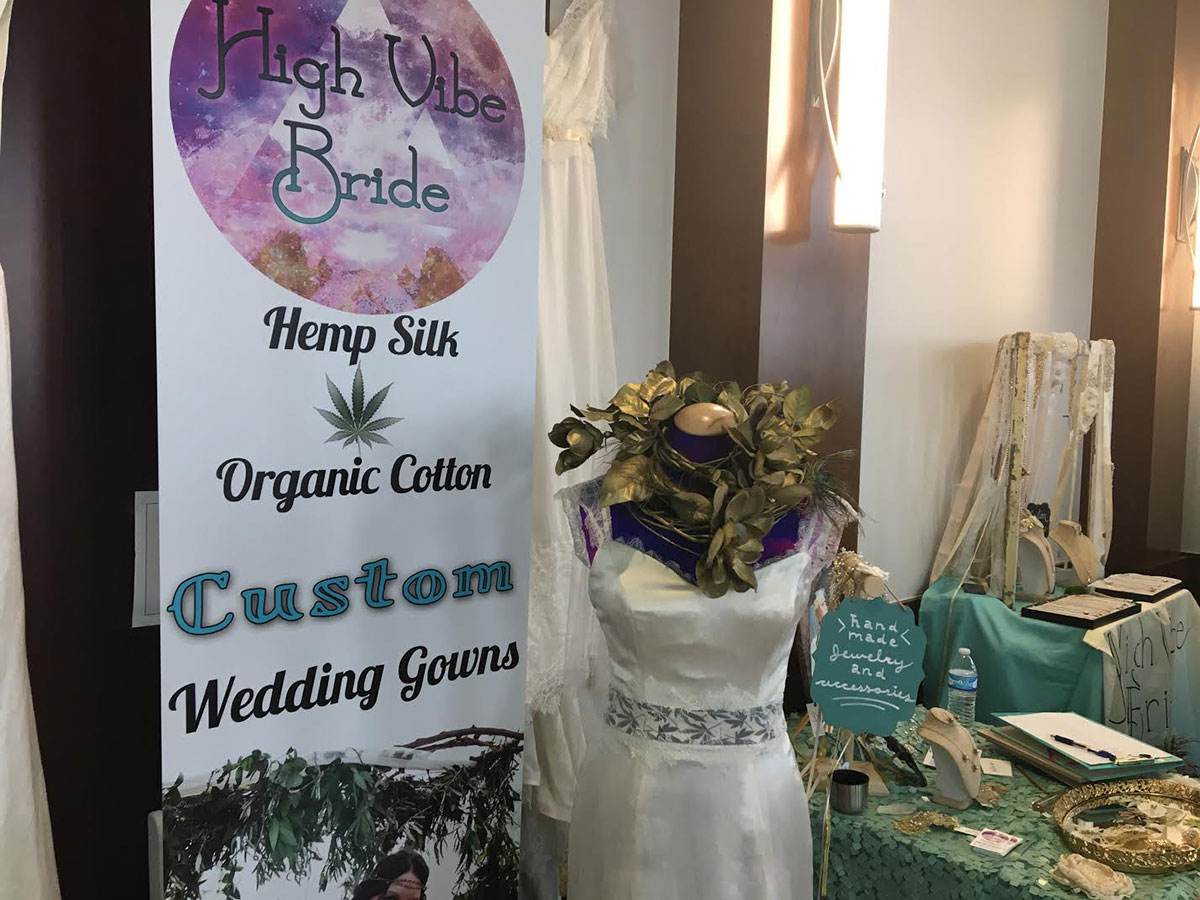 For the bride, there's hemp and organic cotton dresses with gorgeous leaf-embellished accessories from High Vibe Bride.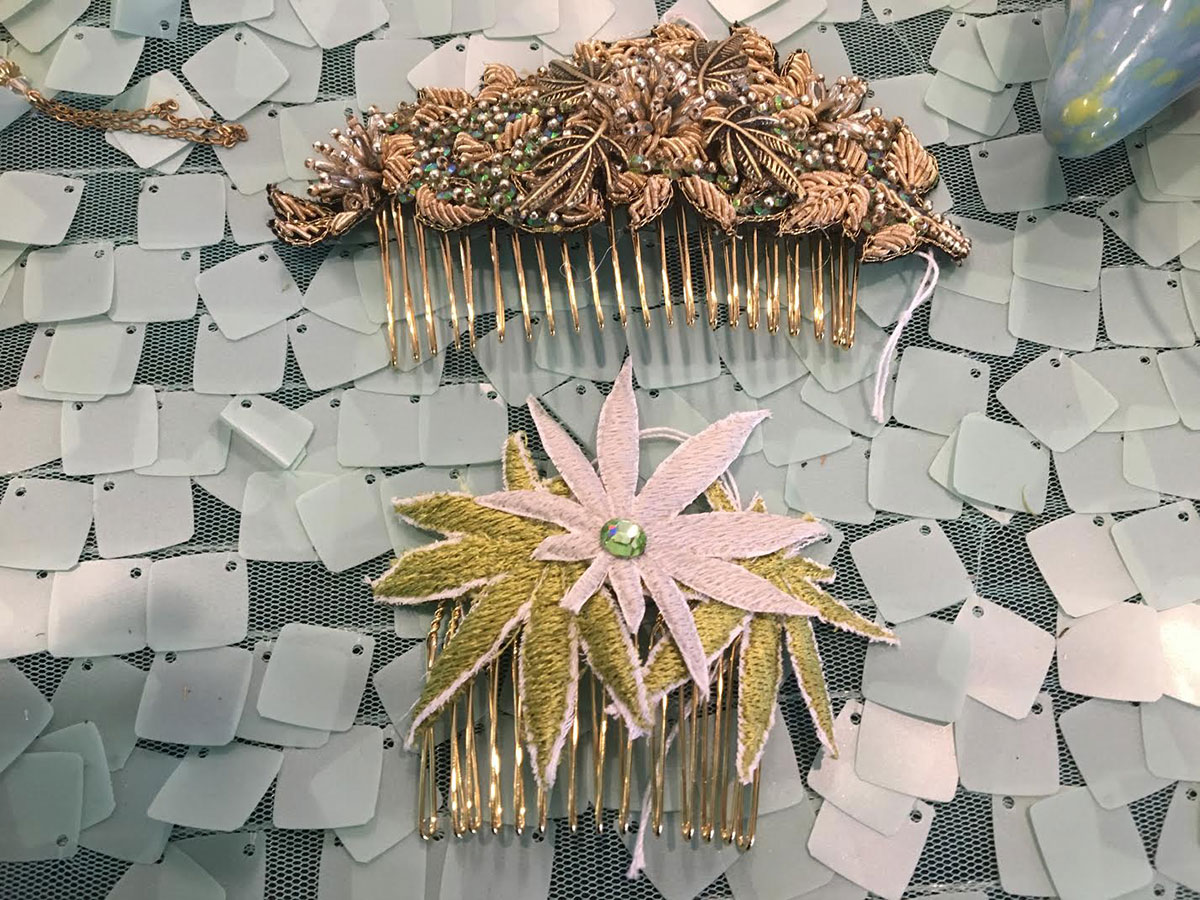 The ganja-loving groom can also show his love for the plant with a custom cannabis boutonniere by Bud and Blossoms.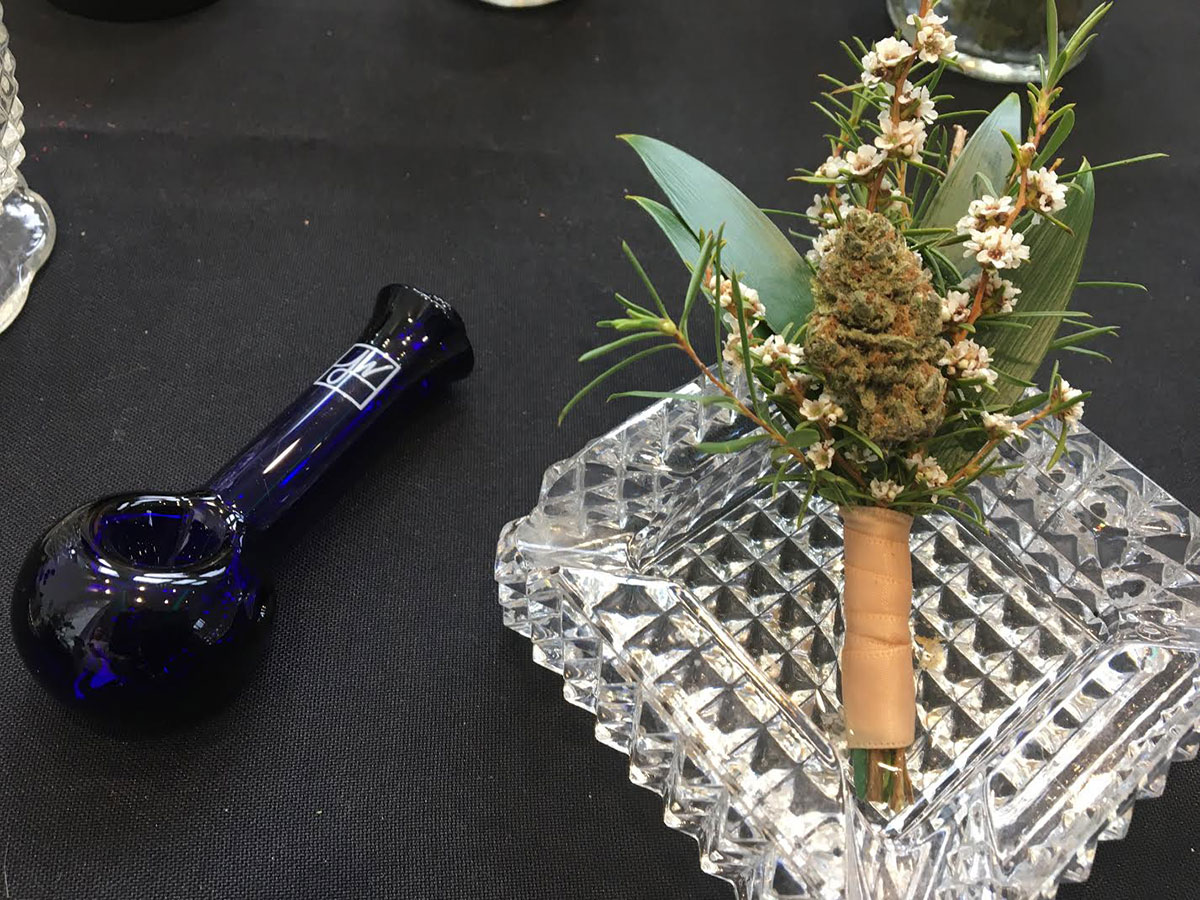 It's legal to consume in recreational states like Colorado, as weddings are private events. But be sure to consult with professionals for complete compliance.
Experts from the expo say inviting Mary Jane is as simple as the bride or groom visiting a dispensary to purchase an ounce to 'gift' to the party. But how much is too much?
Top Shelf Budtending provides expert budtenders to weddings and events to safely dispense and supervise consumers at the party. They say to plan for about an ounce of cannabis per 60-70 consumers – and that's if they are heavy users.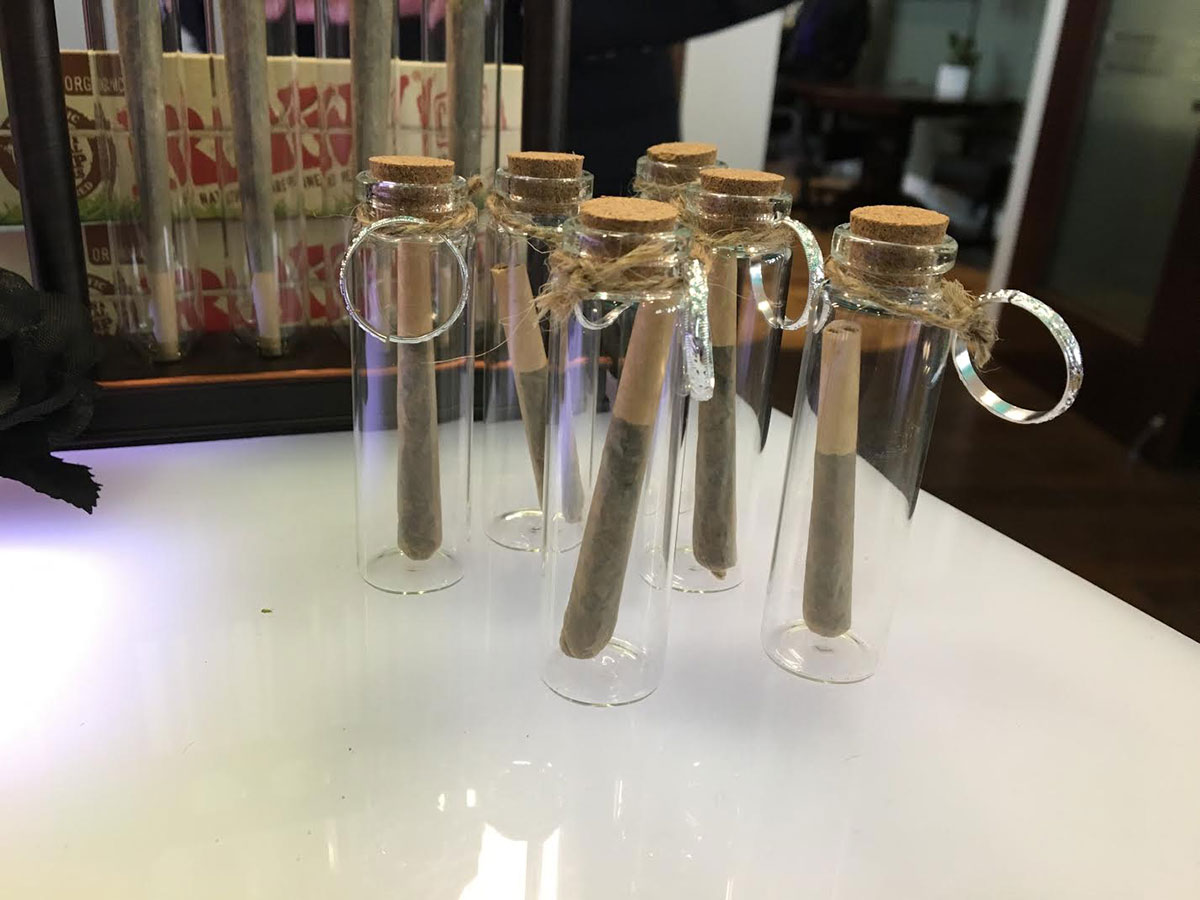 Other unique elements for the perfect weed wedding include premium cannabis packages from the Denver dispensary, Groundswell, which are specifically created with weddings in mind.
"We offer packages for wedding parties, gift bags, and event catering that are ideal for everything from bridal suites, to bachelor parties, and we make sure everything is weighed to ensure everyone is in compliance with state law," says the spokesperson for Groundswell.
Mary Jane Gift Boxes celebrate the lifestyle – without any actual THC. Their satin-lined gift boxes feature items with the likeness of cannabis leaves and nugs but leave out the real thing – so it's legal to ship across the U.S.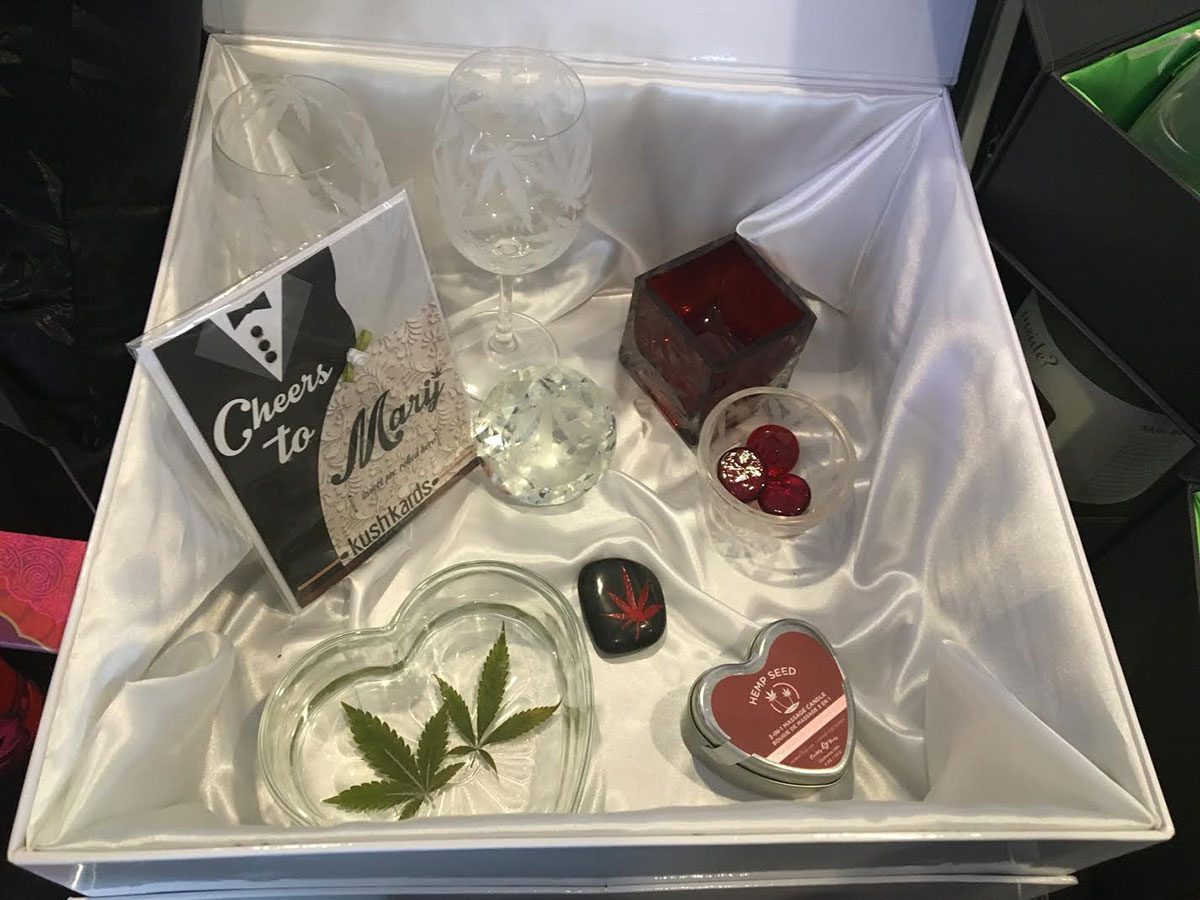 Another gift that's both unique and discreet comes from My Bud Vase. You may have seen one of these flower vase bongs on Miley Cyrus's Instagram. These special vases can adorn bridal suites, as well as actual centerpieces.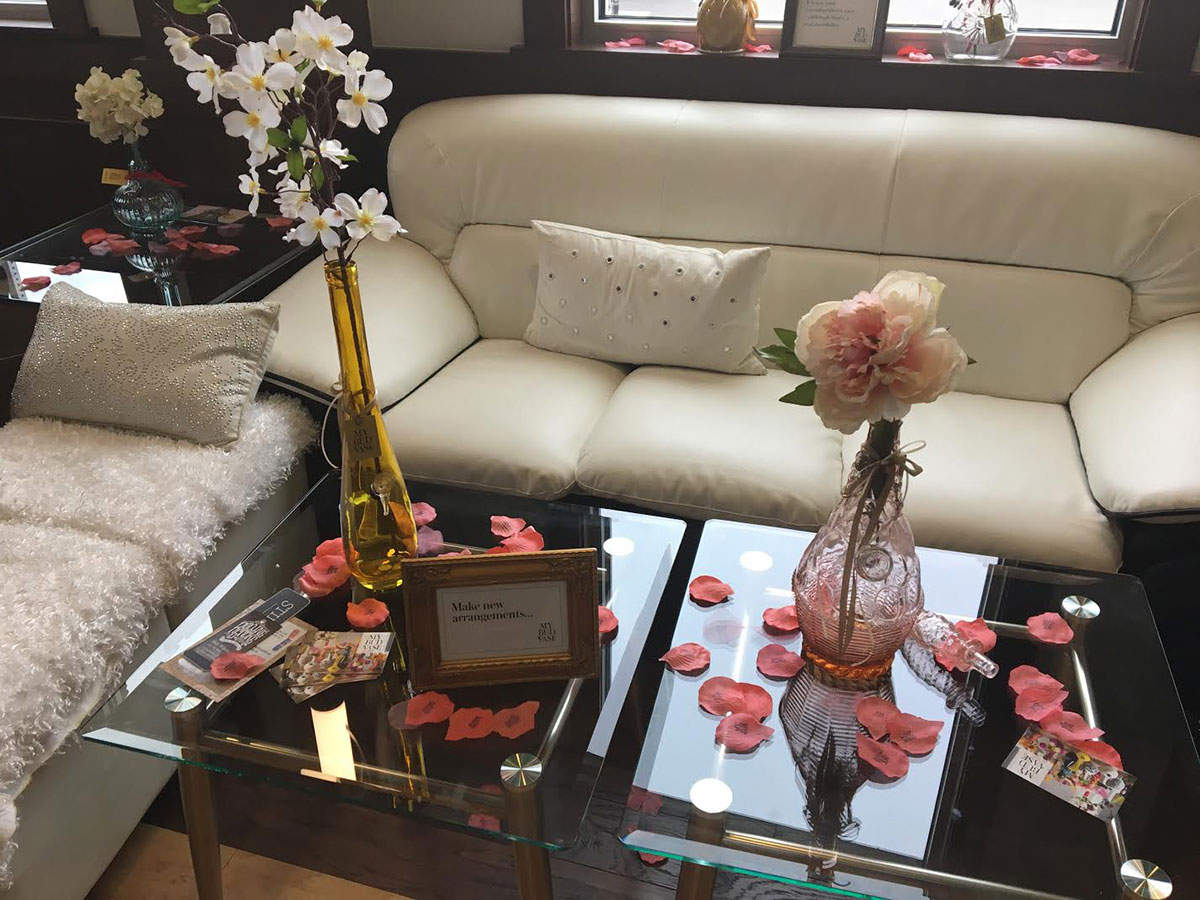 Home to the Colorado wedding expo, The Falls Event Center overlooks the Rockies and is a 420-friendly venue for all types of private events. Aspen Canyon Ranch, also in Colorado, is another great alternative, as the vacation destination boasts hundreds of cannabis friendly acres, with outdoor activities and nearby springs for some extra relaxation.
Got the munchies? The expo features cannabis chefs, Cougars Cookin in Stilettos, who are happy to infuse their dishes for the private event. Experienced caterers, they recommend featuring an infused salad dressing, or their infamous infused chocolate fountain for guests to enjoy.
For some highly-enjoyable, out-of-the-box things to do, My 420 Tours has you covered. As a trusted Colorado cannabis tourism company, they offer bridal events, rehearsal dinners with cannabis pairings, and a night on the town in one of their luxury consumption buses – just to name a few ideas.
Still not sure where to start? Irie Weddings and events have planning services to get you started on your cannabis-friendly matrimony.
Get daily cannabis business news updates. Subscribe