The Armoire is a self-contained, discreet bio chamber built for home growing a single oversized autoflower cannabis plant. Manufactured and distributed by e-commerce company Green Goddess Supply, The Armoire is made from waterproof, fire-retardant, and mold-resistant PVC polymer. The outer layer is coated with a vinyl veneer which gives the appearance of a wooden finish and the door is childproof locked. It uses a 13 Spectrum, high PAR, low-heat proprietary LED light specially designed to include a knob that controls photosynthetically active radiation (PAR). The 13 spectrums are ideal for The Armoire method and inhibit mold growth and deter unwanted pests. The feet were an additional ergonomic feature that allows home growers to pull up a chair and sit while tending to their plant, instead of bending over or crouching.
"We're a seed-to-consumption company, so our mission is to empower everyone to grow simply, easily, conveniently, and also to be able to then have whatever they need to harvest, whatever they need to consume, storage, everything," said Green Goddess COO Vince Bitetti. Bitetti met CEO Eric Robichaud while the pair worked at his high-profile gaming company. Knowing the serial entrepreneur was involved in the cannabis industry, Bitetti approached Robichaud with his idea.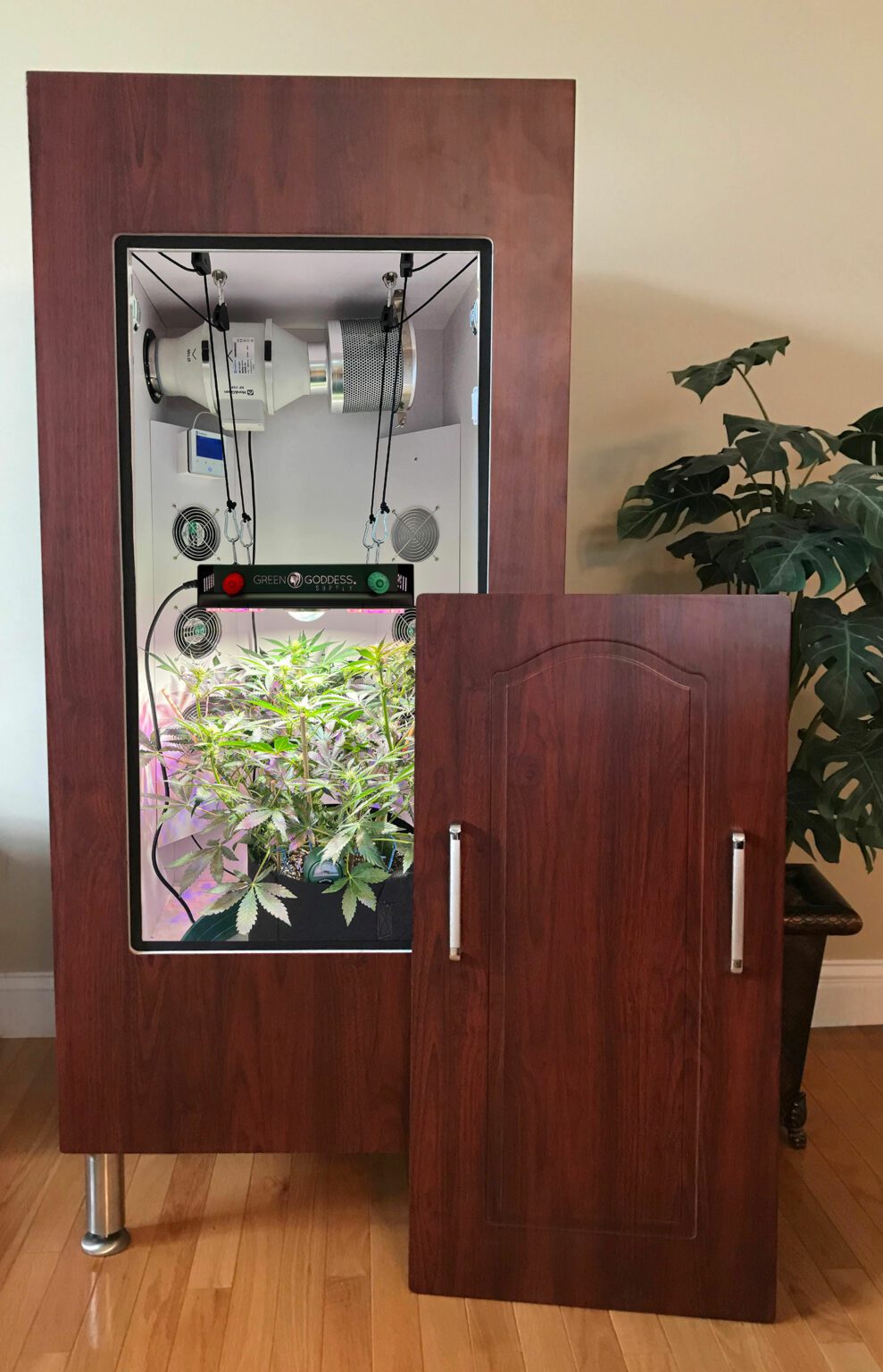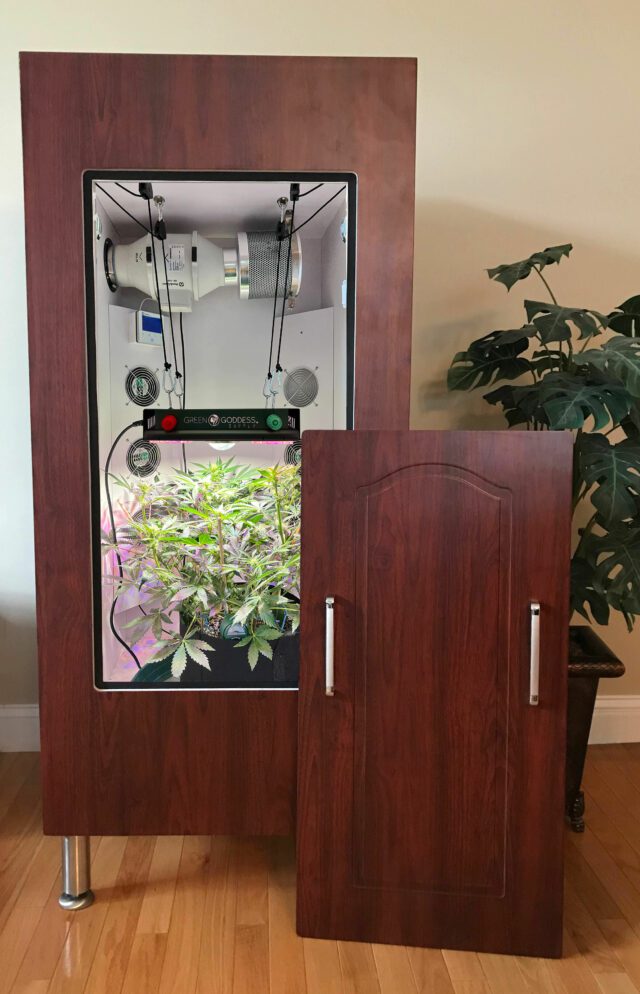 Bringing The Armoire to life was a decades-long process that began in the 70s while Bitetti studied botany in college. He kept getting seeds in his bag of weed, plump brown ones with black tiger stripes. With his background in botany, he figured he'd start planting them in his backyard. Unfortunately, the city of Los Angeles sprayed an insecticide to battle a fruit-fly infestation, which dusted the whole crop. That experience inspired him to start growing his plants indoors. In the 1980s, after seeing him successfully cultivate good flower, his friends started asking him for instructions on growing just a single indoor plant, which wasn't easy to do at the time. Dialing in the process remained a passion project throughout years of running his own software company, and then the day came when he approached Robichaud about The Armoire prototype. As soon as Robichaud saw it, the CEO said: "Let's do it!" The pair continued developing the grow box for four years and eventually acquired a U.S. patent for the technology.
"The patent demonstrates the measurable, definable difference of our home grow cabinet versus home grow tents and other gadgets," Robichaud said.
Robichaud hadn't grown cannabis before using The Armoire but now he's one of the most prolific growers in The Armoire family. And it does feel sort of like a family because of the supportive Concierge Support Service, which comes with purchasing a unit. Bitetti and East Coast Concierge Kyle Hamilton speak with their grower clients on a regular basis via phone, video calls, texting, and email to teach their method, ensure the process is dialed in, and — as was the case for me — help guarantee success. Bittetti said it's an essential component of the product: "The Armoire as a product really has three key components that work together: it's part hardware, part process, and part Concierge Support Service. It's the combination of all three that makes it work."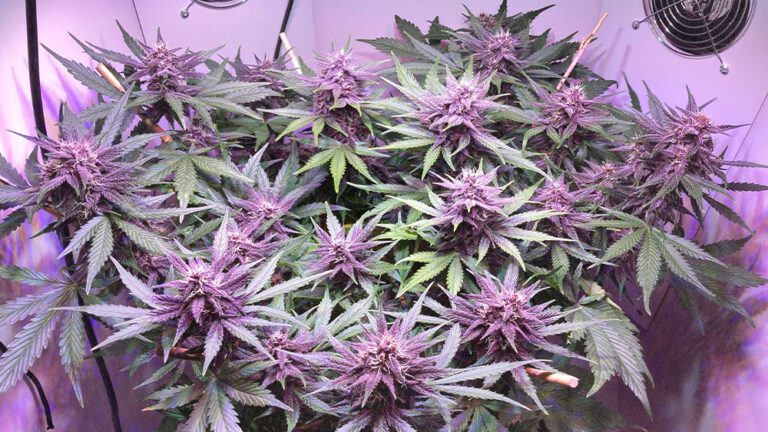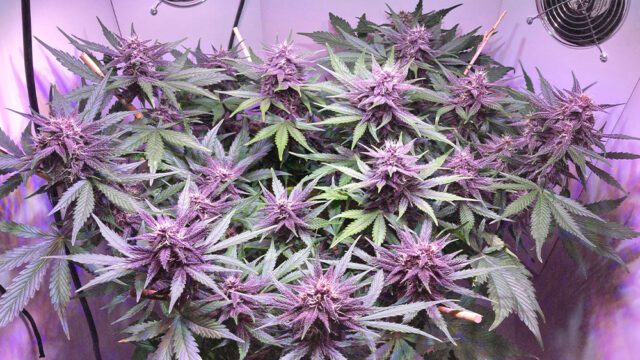 The first 90 days of the Concierge Support Service are complementary and from there, growers can purchase an extended support plan. I, someone who has tried and failed to grow a proper cannabis plant a few times, was sent an Armoire and assisted by the Concierge Support Service from sprout to harvest. And it went well, although I'm confident it wouldn't have been possible without the Concierge Service Support.
Green Goddess had all of the supplies that I needed to get started, including a seed with solid genetics. Three days after planting, my seed sprouted. As soon as I saw the sprout, I started sending Bitetti a weekly photo of the plant. That's how I learned firsthand that he was adept at diagnosing cultivation issues with just a picture. In the first week, my settings weren't correct and he identified it based on the slight droopiness of the leaves. Once he noticed that, I was quickly in touch with the right person to help me adjust the settings and get the plant back on track. It was impressive how in tune with the plant Bitetti is, and he is adamant that everyone can do this whether they're an expert or not. "You have to figure out what the plant needs by how it looks, it's not hard once you do it a couple of times."
The goal is to make growing in The Armoire as simple as growing a houseplant: "We want people to be able to do it easily, simply, and efficiently. After two or three grows, they are off and running," Bitetti said.
Some may want a less expensive option, so Green Goddess has released the ATS-42 Grow Tent System, designed to use the same 'High Yield + Easy Grow' protocol as The Armoire and it includes a year of Concierge Support. This grow tent is larger, which is less discreet, but it's half the price and can grow 2-4 plants at a time. It is a good option for someone looking for the same protocol and Concierge Support Service as The Armoire but at a more entry-level price.
The Armoire was a better fit for me, and I ultimately harvested two large mason jars filled to the brim with sparkling, dark purple buds of Black Strap from my first plant in the grow box. I am confident that I walked away from the experience with the tools to do even better next time. The bio chamber itself is nice and easily nestled into the corner of my living room where it exists without being an eyesore, but it's not completely discreet while running. The chamber does make a persistent low fan noise while it is active, something every guest I had over would inquire about. For my next plant, I plan to put the unit where a humming sound wouldn't be a bother.
The Armoire is worth the investment for someone interested in growing their own high-quality cannabis, and especially so for patients who want expert assistance in the production of their plant medicine. To learn more about The Armoire and other Green Goddess Supply offerings, visit greengoddesssupply.com